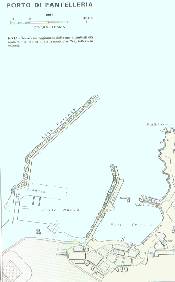 Cliccare sulla mappa per l'ingrandimento
Click on img to view map
L'isola si trova al centro del Canale di Sicilia ha un'estensione di 83 Kmq, è lunga 14 Km e larga 9 km. E' collegata giornalmente alla Sicilia con il traghetto da Trapani, è più vicina alla costa africana che a quella italiana. L'economia dell'isola si basa sul turismo, la pesca e l'agricoltura. E' un vero paradiso per gli appassionati del mare, specialmente sub e velisti. I primi a sfruttarla per scopi commerciali furono i Fenici. In seguito fu possedimento Arabo e Normanno ,quindi con una storia parallela a quella della Sicilia, è la seconda isola per grandezza dopo Malta , in gran parte montuosa con diversi crateri vulcanici ,infatti tutt'ora persistono diversi fenomeni quali : acque costiere termali 30-70 C°, getti di vapore bollente, grotte sature di vapori.

The island is situated to Sicily Channel Center, it is 83 square/Km extended, 14 km legth and 9 km large. Pantelleria daily is connected to Sicily by ferry-boat from Trapani Port. This island is nearest to african coast that to italian coast. Enonomy is based on tourism, fishing and agricultre, it is a "paradise" for underwater and yachting activities.